Prowin
/ ST960
EXCEPTIONAL TRACTION AND BRAKE PERFORMANCE IN HARSH WINTER CONDITIONS
Winter
Does It Fit Your Car?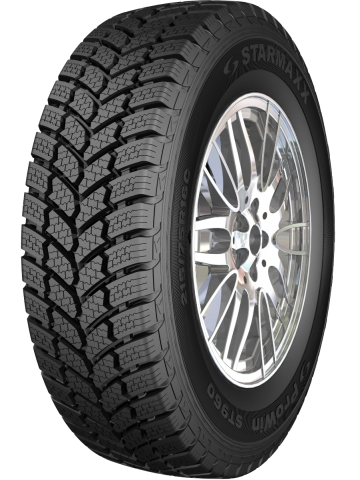 Overview
ST960 FULL GRIP
Unique tread design with wavy sipes enables high grip
performance on icy surfaces. Offers safety and durability.
more
Technology & Benefits
HIGH TECH UNDERTREAD CONSTRUCTION

Jointless "0" degree spiral nylon cover and wide steel belts

It improves uniformity for smoother ride, durability and tread wear.

JOINTLESS MONO STRAND BEAD WIRE AND HARD BEAD FILLER

Strengthens the link between tire and rim for a more precise driving experience.

Improve lateral stability in high speed cornering and uniformity for smoother ride.
All Sizes
Prowin / ST960
TIRE SIZE
PR
LOAD INDEX
SPEED SYMBOL
LOAD CAPACITY (kg)
SPEED LIMIT (km/h)
INFLATING PRESSURE (LB/IN2)
RIM
INFLATED DIMENSIONS
EU LABEL
2 wheeled maximum load per axle (kg)
4 wheeled maximum load per axle (kg)
RECOM. (INCHES)
PERMITTED (INCHES)
Section Width Min-Max
OUTER DIAMETER (MM)
155R12C
8
88/83
N
1120
2120
140
65
4½J
4,00B, 4,50B, 4J, 5J
154
550
LABEL
155R13C
8
90/89
N
1030
1948
140
51
4½J
4,00B, 4,50B, 4J, 5,00B, 5J
157
578
LABEL
185/75R16C
8
104/102
R
1800
3400
170
69
5J
5½J, 6J
184
684
LABEL
185R14C
8
102/100
R
1700
3200
170
65
5½J
5J, 6J
188
650
LABEL
195/60R16C
6
99/97
T
1550
2920
190
54
6J
5½J-6J, 6½J
201
640
LABEL
195/65R16C
8
104/102
T
1800
3400
190
69
6J
5½J, 6J
201
660
LABEL
195/70R15C
8
104/102
R
1800
3400
170
65
6J
5J, 5½J
198
661
LABEL
195/75R16C
8
107/105
R
1950
3700
170
69
5½J
5J, 6J
196
698
LABEL
195R14C
8
106/104
R
1900
3600
170
65
5½J
5J, 6J
198
666
LABEL
205/65R16C
8
107/105
T
1950
3700
190
69
6J
5½J, 6J, 6½J
200
677
LABEL
205/70R15C
8
106/104
R
1900
3600
170
65
6J
5½J, 6J, 6½J
221
673
LABEL
205/75R16C
10
113/111
R
2300
4360
170
76
5½J
6J, 6½J
203
711
LABEL
215/65R15C
6
104/102
T
1800
3400
190
54
6½J
6J 6½J 7J
211
660
LABEL
215/65R16C
8
109/107
R
2060
3900
170
69
6½J
6J, 7J
215
690
LABEL
215/70R15C
8
109/107
R
2060
3900
170
65
6½J
5½J, 6J, 7J
220
684
LABEL
215/75R16C
10
116/114
R
2500
4720
170
76
6J
5½J, 6½J, 7J
216
728
LABEL
215/75R16C
10
116/114
R
2500
4720
170
76
6J
5½J-6½J-7J
213
728
LABEL
225/65R16C
8
112/110
R
2240
4240
170
69
6½J
6J, 7J
228
698
LABEL
225/70R15C
8
112/110
R
2240
4240
170
65
6½J
6J, 7J
222
698
LABEL
225/75R16C
8
118/116
R
2640
5000
170
76
6J
6½J, 7J
225
747
LABEL
235/65R16C
12
121/119
R
2900
5440
170
80
7J
6½J, 7J, 7½J
238
716
LABEL
235/65R16C
12
121/119
R
2900
5440
170
83
7J
6½J-7½J
237
716
LABEL
285/65R16C
10
128
N
3600
-
140
76
8½J
8J, 9J
297
778
LABEL