SMT
/ 08
High traction general purpose forestry tire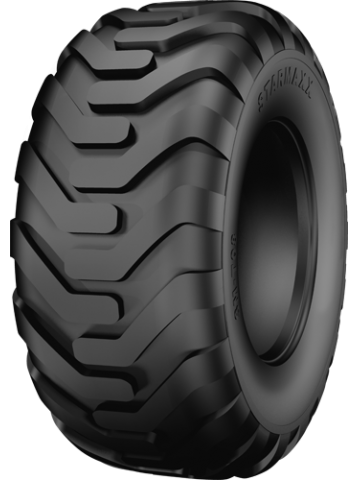 Overview
SMT08
General purpose forestry tire.
Absorbs side impacts with its special sidewall compound and
grips the soil perfectly, preventing slides to sides. Non-aggressive
pattern is designed to ensure perfect balance with excellent grip
on even the softest terrains and offer larger footprint to minimize
soil compaction. Strong tread and shoulder structure enable high
load capacity. Reinforced sidewall compound improves resistance
against side impacts.
more
Properties
All Sizes
SMT
/ 08
TIRE SIZE
PR
TT/TL
LOAD INDEX
SPEED SYMBOL
RIM
INFLATED DIMENSIONS
INFLATING PRESSURE (psi)
LOAD INDEX
FREE ROLLING
DRIVE WHEEL
RECOM. (INCHES)
PERMITTED (INCHES)
Section Width Min-Max
OUTER DIAMETER (MM)
FREE ROLLING (KG)
DRIVE WHEEL (KG)
10
25
30
40
50
10
25
30
40
50
500/60-22.5
10
TL
153
141
A8
AG 16.00
15.00, 16.00, 17.00
503
1172
24 / 1.6
4560
3910
3680
3285
2955
3245
2755
2595
2315
2085
500/60-22.5
10
TL
153
141
A8
AG 16.00
15.00, 16.00, 17.00
503
1172
26 / 1.8
4750
4040
3800
3395
3055
3350
2850
2680
2395
2155
500/60-22.5
10
TL
153
141
A8
AG 16.00
15.00, 16.00, 17.00
503
1172
29 / 2.00
5110
4345
4090
3650
3285
3605
3065
2884
2575
2315
500/60-22.5
16
TL
159
147
A8
AG 16.00
15.00, 16.00, 17.00
503
1172
44 / 3.0
6125
5205
4900
4375
3940
4305
3660
3445
3075
2765
500/60-22.5
16
TL
159
147
A8
AG 16.00
15.00, 16.00, 17.00
503
1172
41 / 2.8
5940
5050
4750
4245
3820
4175
3550
3340
2980
2685
500/60-22.5
16
TL
159
147
A8
AG 16.00
15.00, 16.00, 17.00
503
1172
38 / 2.6
5510
4685
4410
3935
3540
4090
3475
3270
2920
2630
550/60-22.5
16
TL
167
155
A8
16.00
AG 16.00
537
1232
41 / 2.8
7630
6485
6105
5450
4905
5425
4610
4340
3875
3485
550/60-22.5
16
TL
167
155
A8
16.00
AG 16.00
537
1232
38 / 2.6
7170
6095
5740
5120
4610
5260
4470
4210
3760
3380
550/60-22.5
16
TL
167
155
A8
16.00
AG 16.00
537
1232
35 / 2.4
6715
5705
5370
4795
4315
5150
4380
4120
3680
3310
600/50-22.5
16
TL
156
144
A8
AG 20.00
-
611
1172
38 / 2.6
5600
4760
4480
4000
3600
3920
3330
3135
2800
2520
600/50-22.5
16
TL
156
144
A8
AG 20.00
-
611
1172
35 / 2.4
5265
4475
4210
4210
3385
3800
3230
3040
2715
2445
600/50-22.5
16
TL
156
144
A8
AG 20.00
-
611
1172
32 / 2.2
4930
4190
3940
3520
3170
3725
3165
2980
2660
2395