Overview
TR120
General purpose R1W row crop tractor and sprayer tire.
Narrow profile protects the crop from damages. Robust carcass
structure enables maximum performance under heavy loads. Deep
lugs and special tread compound ensure longevity. Special tread
compound provides high resistance against wear and cuts. Tread
design enhances self-cleaning capability and reduces slippage.
more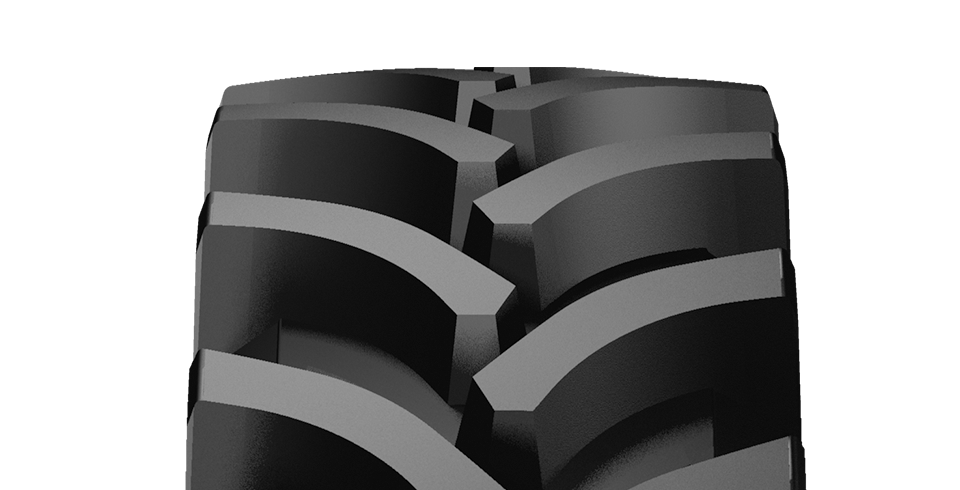 All Sizes
TR / 120
TIRE SIZE
PR
TT/TL
LOAD INDEX
SPEED SYMBOL
RIM
INFLATED DIMENSIONS (NO LOAD)
INFLATED DIMENSIONS (W/LOAD)
INFLATING PRESSURE (psi)
LOAD CAPACITY PER TIRE (KG)
EU LABEL
RECOM. (INCHES)
PERMITTED (INCHES)
Section Width Min-Max
OUTER DIAMETER (MM)
DYNAMIC RADIUS CIRCLE (MM)
STATIC LOADED RADIUS (MM)
Speed (KM/H)
10
15
20
25
30
40
50
65
210/95R36
TL
116 A8
116B
W7
W6
211
1314
3985
621
17 / 1.2
1175
975
940
875
875
LABEL
210/95R36
TL
116 A8
116B
W7
W6
211
1314
3985
621
20 / 1.4
1310
1085
1045
975
975
LABEL
210/95R36
TL
116 A8
116B
W7
W6
211
1314
3985
621
23 / 1.6
1445
1195
1155
1075
1075
LABEL
210/95R36
TL
116 A8
116B
W7
W6
211
1314
3985
621
26 / 1.8
1510
1250
1205
1125
1125
LABEL
210/95R36
TL
116 A8
116B
W7
W6
211
1314
3985
621
29 / 2.0
1575
1305
1260
1175
1175
LABEL
210/95R36
TL
116 A8
116B
W7
W6
211
1314
3985
621
32 / 2.2
1625
1350
1300
1215
1215
LABEL
210/95R36
TL
116 A8
116B
W7
W6
211
1314
3985
621
35 / 2.4
1675
1390
1340
1250
1250
LABEL
230/95R32
TL
126 A8
126B
W7
W8
230
1255
3799
593
20 / 1.4
1415
1170
1130
1055
1055
LABEL
230/95R32
TL
126 A8
126B
W7
W8
230
1255
3799
593
23 / 1.6
1550
1285
1240
1160
1160
LABEL
230/95R32
TL
126 A8
126B
W7
W8
230
1255
3799
593
26 / 1.8
1620
1340
1295
1210
1210
LABEL
230/95R32
TL
126 A8
126B
W7
W8
230
1255
3799
593
29 / 2.0
1710
1420
1365
1275
1275
LABEL
230/95R32
TL
126 A8
126B
W7
W8
230
1255
3799
593
32 / 2.2
1755
1455
1405
1310
1310
LABEL
230/95R32
TL
126 A8
126B
W7
W8
230
1255
3799
593
35 / 2.4
1800
1495
1440
1345
1345
LABEL
230/95R32
TL
126 A8
126B
W7
W8
230
1255
3799
593
38 / 2.6
1915
1590
1530
1430
1430
LABEL
230/95R32
TL
126 A8
126B
W7
W8
230
1255
3799
593
41 / 2.8
1985
1645
1585
1480
1480
LABEL
230/95R32
TL
126 A8
126B
W7
W8
230
1255
3799
593
44 / 3.0
2075
1720
1660
1550
1550
LABEL
230/95R32
TL
126 A8
126B
W7
W8
230
1255
3799
593
46 / 3.2
2145
1775
1710
1600
1600
LABEL
230/95R32
TL
126 A8
126B
W7
W8
230
1255
3799
593
49 / 3.4
2210
1835
1765
1650
1650
LABEL
230/95R32
TL
126 A8
126B
W7
W8
230
1255
3799
593
52 / 3.6
2280
1890
1820
1700
1700
LABEL
230/95R36
TL
128 A8
128B
W7
W8
230
1358
4117
644
17 / 1.2
1355
1120
1080
1010
1010
LABEL
230/95R36
TL
128 A8
128B
W7
W8
230
1358
4117
644
23 / 1.6
1645
1360
1310
1225
1225
LABEL
230/95R36
TL
128 A8
128B
W7
W8
230
1358
4117
644
26 / 1.8
1715
1420
1370
1280
1280
LABEL
230/95R36
TL
128 A8
128B
W7
W8
230
1358
4117
644
29 / 2.0
1810
1500
1445
1350
1350
LABEL
230/95R36
TL
128 A8
128B
W7
W8
230
1358
4117
644
32 / 2.2
1860
1540
1485
1390
1390
LABEL
230/95R36
TL
128 A8
128B
W7
W8
230
1358
4117
644
35 / 2.4
1910
1580
1525
1425
1425
LABEL
230/95R36
TL
128 A8
128B
W7
W8
230
1358
4117
644
38 / 2.6
2030
1680
1620
1515
1515
LABEL
230/95R36
TL
128 A8
128B
W7
W8
230
1358
4117
644
41 / 2.8
2100
1740
1680
1570
1570
LABEL
230/95R36
TL
128 A8
128B
W7
W8
230
1358
4117
644
44 / 3.0
2195
1820
1755
1640
1640
LABEL
230/95R36
TL
128 A8
128B
W7
W8
230
1358
4117
644
46 / 3.2
2270
1880
1815
1695
1695
LABEL
230/95R36
TL
128 A8
128B
W7
W8
230
1358
4117
644
49 / 3.4
2340
1940
1870
1750
1750
LABEL
230/95R36
TL
128 A8
128B
W7
W8
230
1358
4117
644
52 / 3.6
2415
2000
1930
1800
1800
LABEL
230/95R40
TL
122 A8
122B
W7
W8
228
1454
4362
684
17 / 1.2
1410
1170
1125
1050
1050
LABEL
230/95R40
TL
122 A8
122B
W7
W8
228
1454
4362
684
20 / 1.4
1570
1300
1255
1170
1170
LABEL
230/95R40
TL
122 A8
122B
W7
W8
228
1454
4362
684
23 / 1.6
1730
1435
1385
1290
1290
LABEL
230/95R40
TL
122 A8
122B
W7
W8
228
1454
4362
684
26 / 1.8
1810
1500
1445
1350
1350
LABEL
230/95R40
TL
122 A8
122B
W7
W8
228
1454
4362
684
29 / 2.0
1890
1570
1510
1410
1410
LABEL
230/95R40
TL
122 A8
122B
W7
W8
228
1454
4362
684
32 / 2.2
1950
1620
1560
1455
1455
LABEL
230/95R40
TL
122 A8
122B
W7
W8
228
1454
4362
684
35 / 2.4
2010
1665
1605
1500
1500
LABEL
230/95R44
TL
132 A8
132B
W7
W8
230
1568
4748
733
17 / 1.2
1505
1245
1200
1120
1120
LABEL
230/95R44
TL
132 A8
132B
W7
W8
230
1568
4748
733
20 / 1.4
1665
1380
1330
1240
1240
LABEL
230/95R44
TL
132 A8
132B
W7
W8
230
1568
4748
733
23 / 1.6
1825
1510
1460
1360
1360
LABEL
230/95R44
TL
132 A8
132B
W7
W8
230
1568
4748
733
26 / 1.8
1905
1580
1520
1420
1420
LABEL
230/95R44
TL
132 A8
132B
W7
W8
230
1568
4748
733
29 / 2.0
2010
1665
1605
1500
1500
LABEL
230/95R44
TL
132 A8
132B
W7
W8
230
1568
4748
733
32 / 2.2
2065
1710
1650
1540
1540
LABEL
230/95R44
TL
132 A8
132B
W7
W8
230
1568
4748
733
35 / 2.4
2120
1755
1695
1580
1580
LABEL
230/95R44
TL
132 A8
132B
W7
W8
230
1568
4748
733
38 / 2.6
2255
1865
1800
1680
1680
LABEL
230/95R44
TL
132 A8
132B
W7
W8
230
1568
4748
733
41 / 2.8
2335
1935
1865
1740
1740
LABEL
230/95R44
TL
132 A8
132B
W7
W8
230
1568
4748
733
44 / 3.0
2440
2025
1950
1820
1820
LABEL
230/95R44
TL
132 A8
132B
W7
W8
230
1568
4748
733
46 / 3.2
2520
2090
2015
1880
1880
LABEL
230/95R44
TL
132 A8
132B
W7
W8
230
1568
4748
733
49 / 3.4
2600
2155
2080
1940
1940
LABEL
230/95R48
TL
136 A2
125A
W7
W8
230
1662
5031
795
17 / 1.2
1190
975
940
875
800
LABEL
230/95R48
TL
136 A2
125A
W7
W8
230
1662
5031
795
20 / 1.4
1325
1085
1045
975
890
LABEL
230/95R48
TL
136 A2
125A
W7
W8
230
1662
5031
795
23 / 1.6
1435
1175
1130
1060
965
LABEL
230/95R48
TL
136 A2
125A
W7
W8
230
1662
5031
795
26 / 1.8
1525
1250
1205
1125
1025
LABEL
230/95R48
TL
136 A2
125A
W7
W8
230
1662
5031
795
29 / 2.0
1595
1305
1255
1175
1070
LABEL
230/95R48
TL
136 A2
125A
W7
W8
230
1662
5031
795
32 / 2.2
1640
1340
1290
1205
1100
LABEL
230/95R48
TL
136 A2
125A
W7
W8
230
1662
5031
795
35 / 2.4
1680
1375
1325
1240
1130
LABEL
230/95R48
TL
136 A2
125A
W7
W8
230
1662
5031
795
38 / 2.6
1770
1450
1395
1305
1190
LABEL
230/95R48
TL
136 A2
125A
W7
W8
230
1662
5031
795
41 / 2.8
1840
1505
1450
1355
1235
LABEL
230/95R48
TL
136 A2
125A
W7
W8
230
1662
5031
795
44 / 3.0
1905
1560
1505
1405
1280
LABEL
230/95R48
TL
136 A2
125A
W7
W8
230
1662
5031
795
46 / 3.2
1995
1635
1575
1470
1340
LABEL
230/95R48
TL
136 A2
125A
W7
W8
230
1662
5031
795
49 / 3.4
2065
1685
1625
1520
1385
LABEL
230/95R48
TL
136 A2
125A
W7
W8
230
1662
5031
795
52 / 3.6
2130
1740
1680
1570
1430
LABEL
230/95R48
TL
136 A2
125A
W7
W8
230
1662
5031
795
55 / 3.8
2175
1780
1715
1605
1460
LABEL
230/95R48
TL
136 A2
125A
W7
W8
230
1662
5031
795
58 / 4.0
2240
1835
1770
1650
1505
LABEL
270/95R32
TL
136 A8
136B
W9
W8,W10
275
1327
3981
618
17 / 1.2
1595
1320
1275
1190
1190
LABEL
270/95R32
TL
136 A8
136B
W9
W8,W10
275
1327
3981
618
20 / 1.4
1775
1470
1415
1325
1325
LABEL
270/95R32
TL
136 A8
136B
W9
W8,W10
275
1327
3981
618
23 / 1.6
1925
1595
1535
1435
1435
LABEL
270/95R32
TL
136 A8
136B
W9
W8,W10
275
1327
3981
618
26 / 1.8
2045
1695
1630
1525
1525
LABEL
270/95R32
TL
136 A8
136B
W9
W8,W10
275
1327
3981
618
29 / 2.0
2135
1770
1705
1595
1595
LABEL
270/95R32
TL
136 A8
136B
W9
W8,W10
275
1327
3981
618
32 / 2.2
2195
1820
1750
1640
1640
LABEL
270/95R32
TL
136 A8
136B
W9
W8,W10
275
1327
3981
618
35 / 2.4
2255
1865
1800
1680
1680
LABEL
270/95R32
TL
136 A8
136B
W9
W8,W10
275
1327
3981
618
38 / 2.6
2375
1965
1895
1770
1770
LABEL
270/95R32
TL
136 A8
136B
W9
W8,W10
275
1327
3981
618
41 / 2.8
2465
2040
1970
1840
1840
LABEL
270/95R32
TL
136 A8
136B
W9
W8,W10
275
1327
3981
618
44 / 3.0
2555
2115
2040
1905
1905
LABEL
270/95R32
TL
136 A8
136B
W9
W8,W10
275
1327
3981
618
46 / 3.2
2675
2215
2135
1995
1995
LABEL
270/95R32
TL
136 A8
136B
W9
W8,W10
275
1327
3981
618
49 / 3.4
2765
2290
2210
2065
2065
LABEL
270/95R32
TL
136 A8
136B
W9
W8,W10
275
1327
3981
618
52 / 3.6
2855
2365
2280
2130
2130
LABEL
270/95R32
TL
136 A8
136B
W9
W8,W10
275
1327
3981
618
55 / 3.8
2915
2415
2325
2175
2175
LABEL
270/95R32
TL
136 A8
136B
W9
W8,W10
275
1327
3981
618
58 / 4.0
3005
2490
2400
2240
2240
LABEL
270/95R38
TL
140 A8
140B
W9
W8,W10
275
1479
4437
673
17 / 1.2
1780
1475
1420
1325
1325
LABEL
270/95R38
TL
140 A8
140B
W9
W8,W10
275
1479
4437
673
20 / 1.4
1980
1640
1580
1475
1475
LABEL
270/95R38
TL
140 A8
140B
W9
W8,W10
275
1479
4437
673
23 / 1.6
2145
1780
1715
1600
1600
LABEL
270/95R38
TL
140 A8
140B
W9
W8,W10
275
1479
4437
673
26 / 1.8
2280
1890
1820
1700
1700
LABEL
270/95R38
TL
140 A8
140B
W9
W8,W10
275
1479
4437
673
29 / 2.0
2380
1975
1900
1775
1775
LABEL
270/95R38
TL
140 A8
140B
W9
W8,W10
275
1479
4437
673
32 / 2.2
2450
2030
1955
1825
1825
LABEL
270/95R38
TL
140 A8
140B
W9
W8,W10
275
1479
4437
673
35 / 2.4
2515
2085
2010
1875
1875
LABEL
270/95R38
TL
140 A8
140B
W9
W8,W10
275
1479
4437
673
38 / 2.6
2650
2195
2115
1975
1975
LABEL
270/95R38
TL
140 A8
140B
W9
W8,W10
275
1479
4437
673
41 / 2.8
2750
2280
2195
2050
2050
LABEL
270/95R38
TL
140 A8
140B
W9
W8,W10
275
1479
4437
673
44 / 3.0
2850
2360
2275
2125
2125
LABEL
270/95R38
TL
140 A8
140B
W9
W8,W10
275
1479
4437
673
46 / 3.2
2895
2470
2385
2225
2225
LABEL
270/95R38
TL
140 A8
140B
W9
W8,W10
275
1479
4437
673
49 / 3.4
3085
2555
2465
2300
2300
LABEL
270/95R38
TL
140 A8
140B
W9
W8,W10
275
1479
4437
673
52 / 3.6
3185
2640
2545
2375
2375
LABEL
270/95R38
TL
140 A8
140B
W9
W8,W10
275
1479
4437
673
55 / 3.8
3250
2695
2595
2425
2425
LABEL
270/95R38
TL
140 A8
140B
W9
W8,W10
275
1479
4437
673
58 / 4.0
3350
2775
2675
2500
2500
LABEL
270/95R44
TL
142 A8
142B
W9
W8,W10
275
1632
4896
770
23 / 1.6
2275
1885
1815
1700
1700
LABEL
270/95R44
TL
142 A8
142B
W9
W8,W10
275
1632
4896
770
26 / 1.8
2415
2005
1930
1805
1805
LABEL
270/95R44
TL
142 A8
142B
W9
W8,W10
275
1632
4896
770
29 / 2.0
2525
2090
2015
1885
1885
LABEL
270/95R44
TL
142 A8
142B
W9
W8,W10
275
1632
4896
770
32 / 2.2
2595
2150
2070
1935
1935
LABEL
270/95R44
TL
142 A8
142B
W9
W8,W10
275
1632
4896
770
35 / 2.4
2665
2210
2130
1990
1990
LABEL
270/95R44
TL
142 A8
142B
W9
W8,W10
275
1632
4896
770
38 / 2.6
2810
2325
2245
2095
2095
LABEL
270/95R44
TL
142 A8
142B
W9
W8,W10
275
1632
4896
770
41 / 2.8
2915
2415
2330
2175
2175
LABEL
270/95R44
TL
142 A8
142B
W9
W8,W10
275
1632
4896
770
44 / 3.0
3020
2505
2415
2255
2255
LABEL
270/95R44
TL
142 A8
142B
W9
W8,W10
275
1632
4896
770
46 / 3.2
3165
2620
2525
2360
2360
LABEL
270/95R48
TL
144 A8
144B
W9
W8,W10
275
1890
5198
816
17 / 1.2
1990
1650
1590
1485
1485
LABEL
270/95R48
TL
144 A8
144B
W9
W8,W10
275
1890
5198
816
20 / 1.4
2215
1835
1770
1655
1655
LABEL
270/95R48
TL
144 A8
144B
W9
W8,W10
275
1890
5198
816
23 / 1.6
2405
1990
1920
1795
1795
LABEL
270/95R48
TL
144 A8
144B
W9
W8,W10
275
1890
5198
816
26 / 1.8
2555
2115
2040
1905
1905
LABEL
270/95R48
TL
144 A8
144B
W9
W8,W10
275
1890
5198
816
29 / 2.0
2665
2210
2130
1990
1990
LABEL
270/95R48
TL
144 A8
144B
W9
W8,W10
275
1890
5198
816
32 / 2.2
2740
2270
2190
2045
2045
LABEL
270/95R48
TL
144 A8
144B
W9
W8,W10
275
1890
5198
816
35 / 2.4
2815
2335
2250
2100
2100
LABEL
270/95R48
TL
144 A8
144B
W9
W8,W10
275
1890
5198
816
38 / 2.6
2965
2460
2370
2215
2215
LABEL
270/95R48
TL
144 A8
144B
W9
W8,W10
275
1890
5198
816
41 / 2.8
3080
2550
2460
3
2215
LABEL
270/95R48
TL
144 A8
144B
W9
W8,W10
275
1890
5198
816
41 / 2.8
3080
2550
2460
2300
2300
LABEL
270/95R48
TL
144 A8
144B
W9
W8,W10
275
1890
5198
816
44 / 3.0
3190
2645
2550
2380
2380
LABEL
270/95R48
TL
144 A8
144B
W9
W8,W10
275
1890
5198
816
46 / 3.2
3340
2770
2670
2495
2495
LABEL
270/95R48
TL
144 A8
144B
W9
W8,W10
275
1890
5198
816
49 / 3.4
3455
2860
2760
2580
2580
LABEL
270/95R48
TL
144 A8
144B
W9
W8,W10
275
1890
5198
816
52 / 3.6
3565
2955
2850
2660
2660
LABEL
270/95R48
TL
144 A8
144B
W9
W8,W10
275
1890
5198
816
55 / 3.8
3640
3015
2910
2720
2720
LABEL
270/95R48
TL
144 A8
144B
W9
W8,W10
275
1890
5198
816
58 / 4.0
3755
3110
3000
2800
2800
LABEL
270/95R54
TL
157A2
146A
W9
W8,W10
275
1733
5658
892
17 / 1.2
1980
1600
1545
1440
1315
LABEL
270/95R54
TL
157A2
146A
W9
W8,W10
275
1733
5658
892
20 / 1.4
2230
1800
1735
1620
1475
LABEL
270/95R54
TL
157A2
146A
W9
W8,W10
275
1733
5658
892
23 / 1.6
2435
1965
1895
1770
1615
LABEL
270/95R54
TL
157A2
146A
W9
W8,W10
275
1733
5658
892
26 / 1.8
2600
2100
2025
1890
1720
LABEL
270/95R54
TL
157A2
146A
W9
W8,W10
275
1733
5658
892
29 / 2.0
2725
2200
2120
1980
1805
LABEL
270/95R54
TL
157A2
146A
W9
W8,W10
275
1733
5658
892
32 / 2.2
2805
2265
2185
2040
1860
LABEL
270/95R54
TL
157A2
146A
W9
W8,W10
275
1733
5958
892
35 / 2.4
2890
2335
2250
2100
1915
LABEL
270/95R54
TL
157A2
146A
W9
W8,W10
275
1733
5958
892
38 / 2.6
3055
2465
2380
2220
2025
LABEL
270/95R54
TL
157A2
146A
W9
W8,W10
275
1733
5658
892
41 / 2.8
3180
2565
2475
2310
2105
LABEL
270/95R54
TL
157A2
146A
W9
W8,W10
275
1733
5658
892
44 / 3.0
3300
2665
2570
2400
2185
LABEL
270/95R54
TL
157A2
146A
W9
W8,W10
275
1733
5658
892
46 / 3.2
3465
2800
2700
2520
2295
LABEL
270/95R54
TL
157A2
146A
W9
W8,W10
275
1733
5658
892
49 / 3.4
3590
2900
2795
2610
2380
LABEL
270/95R54
TL
157A2
146A
W9
W8,W10
275
1733
5658
892
52 / 3.6
3715
3000
2890
2700
2460
LABEL
270/95R54
TL
157A2
146A
W9
W8,W10
275
1733
5658
892
55 / 3.8
3795
3065
2955
2760
2515
LABEL
270/95R54
TL
157A2
146A
W9
W8,W10
275
1733
5658
892
58 / 4.0
3920
3165
3050
2850
2595
LABEL
270/95R54
TL
157A2
146A
W9
W8,W10
275
1733
5658
892
64 / 4.4
4125
3330
3210
3000
2730
LABEL
300/95R46
TL
148 A8
148B
W9
DW10,W10,DW11,W11
295
1738
5214
807
17 / 1.2
2240
1855
1790
1670
1670
LABEL
300/95R46
TL
148 A8
148B
W9
DW10,W10,DW11,W11
295
1738
5214
807
20 / 1.4
2495
2065
1990
1860
1860
LABEL
300/95R46
TL
148 A8
148B
W9
DW10,W10,DW11,W11
295
1738
5214
807
23 / 1.6
2705
2240
2160
2020
2020
LABEL
300/95R46
TL
148 A8
148B
W9
DW10,W10,DW11,W11
295
1738
5214
807
26 / 1.8
2875
2380
2295
2145
2145
LABEL
300/95R46
TL
148 A8
148B
W9
DW10,W10,DW11,W11
295
1738
5214
807
29 / 2.0
3000
2485
2395
2240
2240
LABEL
300/95R46
TL
148 A8
148B
W9
DW10,W10,DW11,W11
295
1738
5214
807
32 / 2.2
3085
2555
2465
2300
2300
LABEL
300/95R46
TL
148 A8
148B
W9
DW10,W10,DW11,W11
295
1738
5214
807
35 / 2.4
3170
2625
2530
2365
2365
LABEL
300/95R46
TL
148 A8
148B
W9
DW10,W10,DW11,W11
295
1738
5214
807
38 / 2.6
3335
2765
2665
2490
2490
LABEL
300/95R46
TL
148 A8
148B
W9
DW10,W10,DW11,W11
295
1738
5214
807
41 / 2.8
3465
2870
2765
2585
2585
LABEL
300/95R46
TL
148 A8
148B
W9
DW10,W10,DW11,W11
295
1738
5214
807
44 / 3.0
3590
2975
2865
2680
2680
LABEL
300/95R46
TL
148 A8
148B
W9
DW10,W10,DW11,W11
295
1738
5214
807
46 / 3.2
3760
3115
3000
2805
2805
LABEL
300/95R46
TL
148 A8
148B
W9
DW10,W10,DW11,W11
295
1738
5214
807
49 / 3.4
3885
3220
3105
2900
2900
LABEL
300/95R46
TL
148 A8
148B
W9
DW10,W10,DW11,W11
295
1738
5214
807
52 / 3.6
4010
3325
3205
2995
2995
LABEL
300/95R46
TL
148 A8
148B
W9
DW10,W10,DW11,W11
295
1738
5214
807
55 / 3.8
4095
3395
3270
3060
3060
LABEL
300/95R46
TL
148 A8
148B
W9
DW10,W10,DW11,W11
295
1738
5214
807
58 / 4.0
4225
3500
3375
3150
3150
LABEL
300/95R52
TL
156 D
159A
W9
DW10,W10,DW11,W11
295
1891
5673
896
17 / 1.2
2230
1850
1780
1665
1600
1520
LABEL
300/95R52
TL
156 D
159A
W9
DW10,W10,DW11,W11
295
1891
5673
896
20 / 1.4
2580
2140
2060
1925
1850
1760
LABEL
300/95R52
TL
156 D
159A
W9
DW10,W10,DW11,W11
295
1891
5673
896
23 / 1.6
2875
2380
2295
2145
2060
1960
LABEL
300/95R52
TL
156 D
159A
W9
DW10,W10,DW11,W11
295
1891
5673
896
26 / 1.8
3110
2575
2485
2320
2230
2120
LABEL
300/95R52
TL
156 D
159A
W9
DW10,W10,DW11,W11
295
1891
5673
896
29 / 2.0
3285
2720
2625
2450
2355
2240
LABEL
300/95R52
TL
156 D
159A
W9
DW10,W10,DW11,W11
295
1891
5673
896
32 / 2.2
3405
2820
2720
2540
2440
2320
LABEL
300/95R52
TL
156 D
159A
W9
DW10,W10,DW11,W11
295
1891
5673
896
35 / 2.4
3520
2915
2810
2625
2520
2400
LABEL
300/95R52
TL
156 D
159A
W9
DW10,W10,DW11,W11
295
1891
5673
896
38 / 2.6
3755
3110
3000
2800
2690
2560
LABEL
300/95R52
TL
156 D
159A
W9
DW10,W10,DW11,W11
295
1891
5673
896
41 / 2.8
3930
3255
3140
2935
2815
2680
LABEL
300/95R52
TL
156 D
159A
W9
DW10,W10,DW11,W11
295
1891
5673
896
44 / 3.0
4105
3400
3280
3065
2940
2800
LABEL
300/95R52
TL
156 D
159A
W9
DW10,W10,DW11,W11
295
1891
5673
896
46 / 3.2
4340
3595
3465
3240
3110
2960
LABEL
300/95R52
TL
156 D
159A
W9
DW10,W10,DW11,W11
295
1891
5673
896
49 / 3.4
4515
3740
3605
3370
3235
3080
LABEL
300/95R52
TL
156 D
159A
W9
DW10,W10,DW11,W11
295
1891
5673
896
52 / 3.6
4690
3885
3745
3500
3360
3200
LABEL
300/95R52
TL
156 D
159A
W9
DW10,W10,DW11,W11
295
1891
5673
896
58 / 4.0
4985
4130
3980
3720
3570
3400
LABEL
300/95R52
TL
156 D
159A
W9
DW10,W10,DW11,W11
295
1891
5673
896
64 / 4.4
5455
4520
4355
4070
3910
3720
LABEL
300/95R52
TL
156 D
159A
W9
DW10,W10,DW11,W11
295
1891
5673
896
70 / 4.8
5865
4860
4685
4375
4200
4000
LABEL
340/85R48
TL
151 D
154A
W12
W11
343
1797
5391
844
17 / 1.2
2815
2335
2250
2100
2030
1935
LABEL
340/85R48
TL
151 D
154A
W12
W11
343
1797
5391
844
20 / 1.4
3120
2585
2490
2325
2250
2140
LABEL
340/85R48
TL
151 D
154A
W12
W11
343
1797
5391
844
23 / 1.6
3420
2835
2730
2550
2465
2350
LABEL
340/85R48
TL
151 D
154A
W12
W11
343
1797
5391
844
26 / 1.8
3570
2960
2850
2665
2575
2450
LABEL
340/85R48
TL
151 D
154A
W12
W11
343
1797
5391
844
29 / 2.0
3770
3125
3010
2815
2720
2590
LABEL
340/85R48
TL
151 D
154A
W12
W11
343
1797
5391
844
32 / 2.2
3870
3210
3090
2890
2790
2660
LABEL
340/85R48
TL
151 D
154A
W12
W11
343
1797
5391
844
35 / 2.4
3970
3290
3170
2965
2865
2730
LABEL
340/85R48
TL
151 D
154A
W12
W11
343
1797
5391
844
38 / 2.6
4225
3500
3375
3150
3045
2900
LABEL
340/85R48
TL
151 D
154A
W12
W11
343
1797
5391
844
41 / 2.8
4375
3625
3495
3265
3155
3005
LABEL
340/85R48
TL
151 D
154A
W12
W11
343
1797
5391
844
44 / 3.0
4575
3790
3655
3415
3300
3140
LABEL
340/85R48
TL
151 D
154A
W12
W11
343
1797
5391
844
46 / 3.2
4725
3915
3775
3525
3410
3245
LABEL
340/85R48
TL
151 D
154A
W12
W11
343
1797
5391
844
49 / 3.4
4875
4040
3895
3640
3625
3450
LABEL
340/85R48
TL
151 D
154A
W12
W11
343
1797
5391
844
52 / 3.6
5025
4165
4015
3750
3625
3450
LABEL
380/90R46
TL
159D
162A
W12
W11,W13
380
1852
5556
877
17 / 1.2
3375
2795
2695
2520
2435
2320
LABEL
380/90R46
TL
159D
162A
W12
W11,W13
380
1852
5556
877
20 / 1.4
3760
3115
3000
2805
2715
2585
LABEL
380/90R46
TL
159D
162A
W12
W11,W13
380
1852
5556
877
23 / 1.6
4075
3375
3255
3040
2940
2800
LABEL
380/90R46
TL
159D
162A
W12
W11,W13
380
1852
5556
877
26 / 1.8
4330
3590
3460
3230
3125
2975
LABEL
380/90R46
TL
159D
162A
W12
W11,W13
380
1852
5556
877
29 / 2.0
4520
3745
3610
3375
3265
3110
LABEL
380/90R46
TL
159D
162A
W12
W11,W13
380
1852
5556
877
32 / 2.2
4650
3850
3715
3470
3355
3195
LABEL
380/90R46
TL
159D
162A
W12
W11,W13
380
1852
5556
877
35 / 2.4
4775
3955
3815
3565
3450
3285
LABEL
380/90R46
TL
159D
162A
W12
W11,W13
380
1852
5556
877
38 / 2.6
5030
4170
4020
3755
3630
3460
LABEL
380/90R46
TL
159D
162A
W12
W11,W13
380
1852
5556
877
41 / 2.8
5220
4325
4170
3895
3770
3590
LABEL
380/90R46
TL
159D
162A
W12
W11,W13
380
1852
5556
877
44 / 3.0
5415
4485
4325
4040
3905
3720
LABEL
380/90R46
TL
159D
162A
W12
W11,W13
380
1852
5556
877
46 / 3.2
5665
4695
4525
4230
4090
3895
LABEL
380/90R46
TL
159D
162A
W12
W11,W13
380
1852
5556
877
49 / 3.4
5860
4855
4680
4370
4230
4025
LABEL
380/90R46
TL
159D
162A
W12
W11,W13
380
1852
5556
877
52 / 3.6
6050
5010
4830
4515
4365
4160
LABEL
380/90R46
TL
159D
162A
W12
W11,W13
380
1852
5556
877
55 / 3.8
6175
5115
4935
4610
4460
4245
LABEL
380/90R46
TL
159D
162A
W12
W11,W13
380
1852
5556
877
58 / 4.0
6365
5275
5085
4750
4595
4375
LABEL