TR
/ 130 AGROVEST
R1W harvester tire with aramid belted structure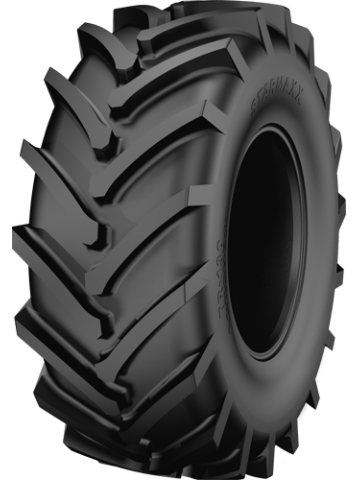 Overview
TR130 AGROVEST
R1W Harvester tire with aramid belted structure.
Aramid belt technology provides extra protection against stubble damage
and ground impacts compared to steel and fabric alternatives. Reinforced
bead structure ensures long life by improving the tire's endurance. Special
tread design enables exceptional traction and better handling on the field.
Wider footprint and optimized lug angle minimize soil compaction and avoid
crop damage. Perfect performance under heavy loads with lower pressure
compared to traditional radial tire construction. Elastic structure absorbs
impacts and yields better flotation. Special tread compound offers high
resistance against punctures.
more
Properties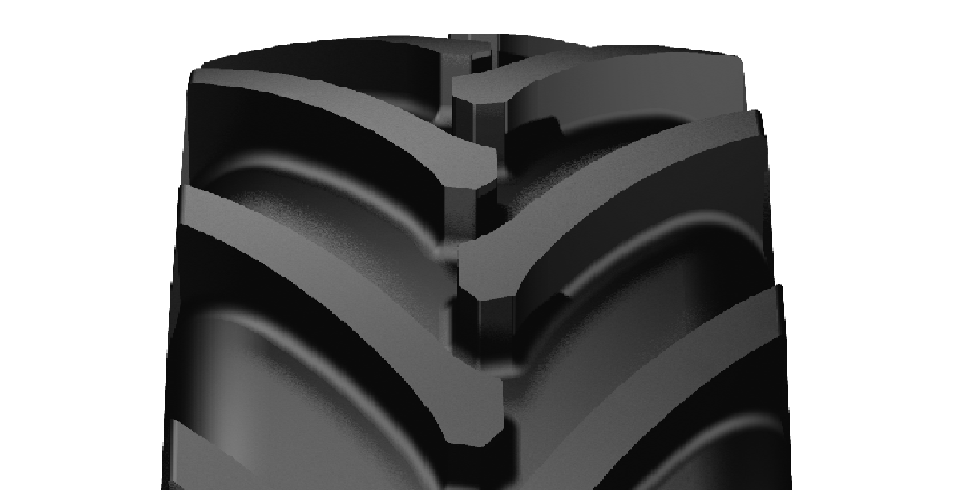 All Sizes
TR
/ 130 AGROVEST
TIRE SIZE
PR
TT/TL
LOAD INDEX
RIM
INFLATED DIMENSIONS (NO LOAD)
INFLATED DIMENSIONS (W/LOAD)
INFLATING PRESSURE (psi/bar)
LOAD CAPACITY PER TIRE (KG)
RECOM. (INCHES)
PERMITTED (INCHES)
Section Width Min-Max
OUTER DIAMETER (MM)
DYNAMIC RADIUS CIRCLE (MM)
STATIC LOADED RADIUS (MM)
Speed (KM/H)
10
15
20
25
30
40
50
65
620/75R
TL
169 A8 / B
DW20B
-
625
1692
5030
770
17 / 1.2
4430
3535
3305
3305
620/75R
TL
169 A8 / B
DW20B
-
625
1692
5030
770
20 / 1.4
4955
3955
3695
3695
620/75R
TL
169 A8 / B
DW20B
-
625
1692
5030
770
23 / 1.6
5405
4315
4030
4030
620/75R
TL
169 A8 / B
DW20B
-
625
1692
5030
770
26 / 1.8
5665
4525
4230
4230
620/75R26
TL
166 A8
DW20B
-
625
1590
4739
703
17 / 1.2
4195
3345
3125
2845
620/75R26
TL
166 A8
DW20B
-
625
1590
4739
703
20 / 1.4
4690
3745
3500
3185
620/75R26
TL
166 A8
DW20B
-
625
1590
4739
703
23 / 1.6
5115
4085
3815
3475
620/75R26
TL
166 A8
DW20B
-
625
1590
4739
703
26 / 1.8
5325
4255
3975
3615
620/75R26
TL
166 A8
DW20B
-
625
1590
4739
703
29 / 2.00
5610
4585
4190
3815
620/75R26
TL
166 A8
DW20B
-
625
1590
4739
703
32 / 2.2
5825
4655
4345
3955
620/75R26
TL
166 A8
DW20B
-
625
1590
4739
703
35 / 2.4
6035
4825
4505
4100
620/75R26
TL
166 A8
DW20B
-
625
1590
4739
703
38 / 2.6
6320
5045
4715
4290
620/75R26
TL
166 A8
DW20B
-
625
1590
4739
703
44 / 3.00
6820
5445
5090
4635
620/75R26
TL
166 A8
DW20B
-
625
1590
4739
703
41 / 2.8
6605
5275
4930
4490
620/75R26
TL
166 A8
DW20B
-
625
1590
4739
703
46 / 3.2
7100
5670
5300
4825
620/75R30
TL
169 A8 / B
DW20B
-
625
1692
5030
770
29 / 2.0
5930
4735
4425
4425
620/75R30
TL
169 A8 / B
DW20B
-
625
1692
5030
770
35 / 2.4
6380
5095
4760
4760
620/75R30
TL
169 A8 / B
DW20B
-
625
1692
5030
770
41 / 2.8
6980
5575
5210
5210
650/75R32
TL
172 A8
DW21B
DW20B, DW23B
645
1789
5367
788
41 / 2.8
6605
5275
4930
4930
650/75R32
TL
172 A8
DW21B
DW20B, DW23B
645
1789
5367
788
44 / 3.0
6820
5445
5090
5090
650/75R32
TL
172 A8
DW21B
DW20B, DW23B
645
1789
5367
788
46 / 3.2
8445
6745
6300
6300
650/75R32
TL
172 A8/172B
R-1W
DW21B
645
1789
5367
788
17 / 1,2
4195
3350
3130
3130
650/75R32
TL
172 A8/172B
R-1W
DW21B
645
1789
5367
788
17 / 1,2
4195
3350
3130
3130
650/75R32
TL
172 A8
DW27B
DW20B, DW23B
645
1789
5367
788
38 / 2.6
6325
5050
4720
4720
650/75R32
TL
172 A8
DW27B
DW20B, DW23B
645
1789
5367
788
35 / 2.4
6040
4825
4505
4505
650/75R32
TL
172 A8
DW27B
DW20B, DW23B
645
1789
5367
788
32 / 2.2
5825
4655
4350
4350
650/75R32
TL
172 A8
DW27B
DW20B, DW23B
645
1789
5367
788
29 / 2.00
5615
4485
4160
4190
650/75R32
TL
172 A8
DW27B
DW20B, DW23B
645
1789
5367
788
26 / 1.8
5330
4255
3975
3975
650/75R32
TL
172 A8
DW27B
DW20B, DW23B
645
1789
5367
788
23 / 1.6
5115
4085
3820
3820
650/75R32
TL
172 A8
DW27B
DW20B, DW23B
645
1789
5367
788
20 / 1.4
4690
3745
3500
3500
650/75R32
TL
172 A8
DW27B
DW20B, DW23B
645
1789
5367
788
17 / 1.2
4195
3350
3130
3130
800/65R32
TL
178/A8-178B
DW27B
DW25B, DH27B
798
1853
5559
823
17 / 1.2
4195
3350
3130
3130
800/65R32
TL
178/A8-178B
DW27B
DW25B, DH27B
798
1853
5559
823
20 / 1.4
4690
3745
3500
3500
800/65R32
TL
178/A8-178B
DW27B
DW25B, DH27B
798
1853
5559
823
23 / 1.6
5115
4085
3820
3820
800/65R32
TL
178/A8-178B
DW27B
DW25B, DH27B
798
1853
5559
823
26 / 1.8
5330
4255
3975
3975
800/65R32
TL
178/A8-178B
DW27B
DW25B, DH27B
798
1853
5559
823
29 / 2.00
5615
4485
4190
4190
800/65R32
TL
178/A8-178B
DW27B
DW25B, DH27B
798
1853
5559
823
32 / 2.2
5825
4655
4350
4350
800/65R32
TL
178/A8-178B
DW27B
DW25B, DH27B
798
1853
5559
823
35 / 2.4
6040
4825
4505
4505
800/65R32
TL
178/A8-178B
DW27B
DW25B, DH27B
798
1853
5559
823
38 / 2.6
6325
5050
4720
4720
800/65R32
TL
178/A8-178B
DW27B
DW25B, DH27B
798
1853
5559
823
41 / 2.8
6605
5275
4930
4930
800/65R32
TL
178/A8-178B
DW27B
DW25B, DH27B
798
1853
5559
823
44 / 3.00
6820
5445
5090
5090
800/65R32
TL
178/A8-178B
DW27B
DW25B, DH27B
798
1853
5559
823
46 / 3.2
10K
8025
7500
7500