TR
/ 60
High traction R1 farm rear tire for standard field operations
Overview
TR60
High traction R1 tractor rear tire for medium and low
powered tractors.
The wide and long lugs provide comfortable drive while improving
grip performance. Offers long service life thanks to its wear resistant
tread compound. Wide and strong body provides ultimate grip and
high traction. Tread profile enables high resistance to tread base
fatigue. Special tread geometry provides efficient self-cleaning
feature.
more
Properties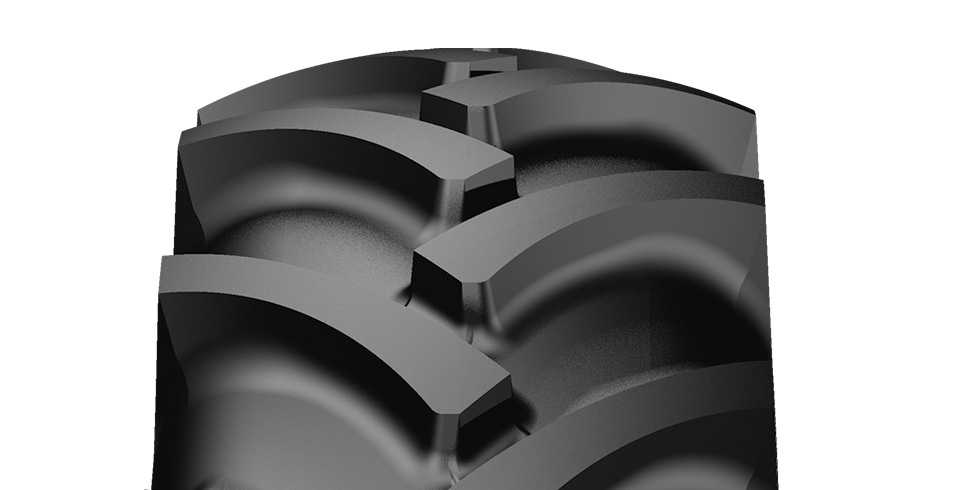 All Sizes
TR
/ 60
TIRE SIZE
PR
TT/TL
LOAD INDEX
SPEED SYMBOL
RIM
INFLATED DIMENSIONS (NO LOAD)
INFLATED DIMENSIONS (W/LOAD)
INFLATING PRESSURE (psi)
LOAD CAPACITY PER TIRE (KG)
RECOM. (INCHES)
PERMITTED (INCHES)
Section Width Min-Max
OUTER DIAMETER (MM)
DYNAMIC RADIUS CIRCLE (MM)
STATIC LOADED RADIUS (MM)
Speed (KM/H)
10
15
20
25
30
40
50
65
11.2-24
8
TT
116
A6
W10
W9
284
1105
3293
503
29 / 2.0
1630
1515
1400
1245
1165
1050
11.2-24
8
TT
116
A6
W10
W9
284
1105
3293
503
32 / 2.2
1680
1560
1440
1285
1200
1080
11.2-24
8
TT
116
A6
W10
W9
284
1105
3293
503
35 / 2.4
1750
1625
1500
1340
1250
1125
11.2-28
8
TT
118
A6
W10
W9
284
1205
3591
554
29 / 2.0
1720
1600
1475
1315
1230
1110
11.2-28
8
TT
118
A6
W10
W9
284
1205
3591
554
32 / 2.2
1780
1650
1525
1360
1270
1145
11.2-28
8
TT
118
A6
W10
W9
284
1205
3591
554
35 / 2.4
1850
1715
1585
1410
1320
1190
12.4-24
6
TT
115
A6
W11
W9, W10
315
1160
3457
525
20 / 1.4
1545
1435
1325
1180
1105
995
12.4-24
6
TT
115
A6
W11
W9, W10
315
1160
3457
525
22 / 1.5
1615
1500
1385
1235
1155
1040
12.4-24
6
TT
115
A6
W11
W9, W10
315
1160
3457
525
25 / 1.7
1700
1580
1460
1300
1215
1095
12.4-24
8
TT
120
A6
W11
W9, W10
315
1160
3457
525
29 / 2.0
1860
1730
1595
1425
1330
1200
12.4-24
8
TT
120
A6
W11
W9, W10
315
1160
3457
525
32 / 2.2
1920
1780
1645
1465
1370
1235
12.4-24
8
TT
120
A6
W11
W9, W10
315
1160
3457
525
33 / 2.3
1960
1820
1680
1500
1400
1260
12.4-24
12
TT
128
A6
W11
W9, W10
315
1160
3457
525
44 / 3.0
2345
2180
2010
1790
1675
1510
12.4-24
12
TT
128
A6
W11
W9, W10
315
1160
3457
525
46 / 3.2
2420
2250
2075
1850
1730
1560
12.4-24
12
TT
128
A6
W11
W9, W10
315
1160
3457
525
51 / 3.5
2520
2340
2160
1925
1800
1620
12.4-28
6
TT
117
A6
W11
W9, W10
315
1260
3755
576
20 / 1.4
1640
1520
1405
1250
1170
1055
12.4-28
6
TT
117
A6
W11
W9, W10
315
1260
3755
576
22 / 1.5
1710
1585
1465
1305
1220
1100
12.4-28
6
TT
117
A6
W11
W9, W10
315
1260
3755
576
25 / 1.7
1800
1670
1540
1375
1285
1160
12.4-28
8
TT
122
A6
W11
W9, W10
315
1260
3755
576
29 / 2.0
1995
1855
1710
1525
1425
1283
12.4-28
8
TT
122
A6
W11
W9, W10
315
1260
3755
576
32 / 2.2
2060
1910
1765
1575
1470
1323
12.4-28
8
TT
122
A6
W11
W9, W10
315
1260
3755
576
33 / 2.3
2100
1950
1800
1605
1500
1350
12.4-32
8
TT
124
A6
W11
W9, W10
315
1360
4053
626
29 / 2.0
2130
1975
1825
1625
1520
1370
12.4-32
8
TT
124
A6
W11
W9, W10
315
1360
4053
626
32 / 2.2
2200
2040
1885
1680
1570
1415
12.4-32
8
TT
124
A6
W11
W9, W10
315
1360
4053
626
33 / 2.3
2240
2080
1920
1710
1600
1440
12.4-36
14
TT
139
A6
W11
W9, W10
315
1465
4366
678
51/3.5
4519
3165
2710
2420
2260
2035
12.4-36
14
TT
139
A6
W11
W9, W10
315
1465
4366
678
55/3.8
4715
3299
2830
2520
2360
2120
12.4-36
14
TT
139
A6
W11
W9, W10
315
1465
4366
678
59/4.1
4860
3400
2915
2600
2430
2190
12.4-36
8
TT
126
A6
W11
W9, W10
315
1465
4366
678
29 / 2.0
2260
2100
1940
1730
1615
1455
12.4-36
8
TT
126
A6
W11
W9, W10
315
1465
4366
678
32 / 2.2
2330
2165
2000
1780
1665
1500
12.4-36
8
TT
126
A6
W11
W9, W10
315
1465
4366
678
33 / 2.3
2380
2210
2040
1820
1700
1530
13.6-24
8
TT
123
A6
DW12
DW11
345
1200
3576
541
25 / 1.7
2045
1900
1750
1560
1460
1315
13.6-24
8
TT
123
A6
DW12
DW11
345
1200
3576
541
28 / 1.9
2085
1940
1790
1595
1490
1340
13.6-24
8
TT
123
A6
DW12
DW11
345
1200
3576
541
29 / 2.0
2170
2015
1860
1660
1550
1395
13.6-28
6
TT
121
A6
W12
W11
345
1310
3904
596
20 / 1.4
1845
1715
1585
1410
1320
1190
13.6-28
6
TT
121
A6
W12
W11
345
1310
3904
596
22 / 1.5
1955
1815
1675
1490
1395
1255
13.6-28
6
TT
121
A6
W12
W11
345
1310
3904
596
23 / 1.6
2030
1885
1740
1555
1450
1305
13.6-28
8
TT
125
A6
W12
W11
345
1310
3904
596
25 / 1.7
2170
2015
1860
1660
1550
1395
13.6-28
8
TT
125
A6
W12
W11
345
1310
3904
596
28 / 1.9
2270
2105
1945
1735
1620
1460
13.6-28
8
TT
125
A6
W12
W11
345
1310
3904
596
29 / 2.0
2310
2145
1980
1765
1650
1485
13.6-36
6
TT
125
A6
W12
W11
345
1515
4515
698
20 / 1.4
2105
1960
1805
1610
1505
1355
13.6-36
6
TT
125
A6
W12
W11
345
1515
4515
698
22 / 1.5
2220
2060
1900
1695
1585
1430
13.6-36
6
TT
125
A6
W12
W11
345
1515
4515
698
23 / 1.7
2310
2145
1980
1765
1650
1485
13.6-36
8
TT
129
A6
W12
W11
345
1515
4515
698
28 / 1.9
2465
2290
2112
1885
1760
1585
13.6-36
8
TT
129
A6
W12
W11
345
1515
4515
698
29 / 2.0
2510
2335
2153
1920
1795
1615
13.6-36
8
TT
129
A6
W12
W11
345
1515
4515
698
32 / 2.2
2590
2405
2220
1980
1850
1665
13.6-38
8
TT
131
A6
W12
W11
345
1565
4664
723
25 / 1.7
2485
2305
2190
1900
1775
1600
13.6-38
14
TT
142
A6
W12
W11
345
1565
4664
723
41/2.8
4875
3415
2925
2610
2440
2195
13.6-38
8
TT
131
A6
W12
W11
345
1565
4664
723
26 / 1.8
2595
2410
2225
1985
1855
1670
13.6-38
14
TT
142
A6
W12
W11
345
1565
4664
723
44 /3.0
5090
3560
3055
2720
2545
2290
13.6-38
8
TT
131
A6
W12
W11
345
1565
4664
723
29 / 2.0
2730
2730
2535
2085
1950
1755
13.6-38
14
TT
142
A6
W12
W11
345
1565
4664
723
48 /3.3
5300
3710
3180
2835
2650
2385
14.00-38
8
TT
131
A6
W12
W11
350
1570
4679
725
25 / 1.7
2485
2485
2305
2190
1900
1600
14.00-38
8
TT
131
A6
W12
W11
350
1570
4679
725
26 / 1.8
2595
2600
2410
2225
1985
1670
14.00-38
8
TT
131
A6
W12
W11
350
1570
4679
725
29 / 2.0
2730
2730
2535
2340
2085
1755
14.00-38
10
TT
136
A6
W12
W11
350
1570
4679
725
29 / 2.0
2980
2770
2555
2280
2130
1920
14.00-38
10
TT
136
A6
W12
W11
350
1570
4679
725
32 / 2.2
3070
2855
2635
2350
2195
1975
14.00-38
10
TT
136
A6
W12
W11
350
1570
4679
725
33 / 2.3
3135
2910
2690
2395
2240
2015
14.9-24
4
TL / TT
112
A6
W13
W11,W12
378
1265
3770
567
10/0.7
1490
1385
1280
1140
1065
960
14.9-24
4
TL / TT
112
A6
W13
W11,W12
378
1265
3770
567
12 / 0.8
1570
1455
1345
1200
1120
1010
14.9-24
6
TT
123
A6
W13
W11,W12
378
1265
3770
567
17 / 1.2
1975
1835
1690
1510
1270
1145
14.9-24
6
TT
123
A6
W13
W11,W12
378
1265
3770
567
20 / 1.4
2170
2015
1860
1660
1550
1395
14.9-24
8
TT
128
A6
W13
W11,W12
378
1265
3770
567
22 / 1.5
2395
2225
2050
1830
1710
1540
14.9-24
8
TT
128
A6
W13
W11,W12
378
1265
3770
567
23 / 1.6
2445
2270
2095
1865
1745
1570
14.9-24
8
TT
128
A6
W13
W11,W12
378
1265
3770
567
26 / 1.8
2520
2340
2160
1925
1800
1620
14.9-24
10
TT
134
A6
W13
W11,W12
378
1265
3770
567
29 / 2.0
2820
2620
2420
2155
2015
1815
14.9-24
10
TT
134
A6
W13
W11,W12
378
1265
3770
567
32 / 2.2
2910
2705
2495
2225
2080
1870
14.9-24
10
TT
134
A6
W13
W11,W12
378
1265
3770
567
33 / 2.3
2970
2755
2545
2270
2120
1910
14.9-24
14
TT
142
A6
W13
W11,W12
378
1265
3770
567
39 / 2.7
3375
3135
2890
2580
2410
2170
14.9-24
14
TT
142
A6
W13
W11,W12
378
1265
3770
567
43 / 3.0
3560
3310
3055
2725
2545
2290
14.9-24
14
TT
142
A6
W13
W11,W12
378
1265
3770
567
46 / 3.2
3710
3445
3180
2835
2650
2385
14.9-28
6
TT
125
A6
W13
W11, W12
378
1365
4068
618
17 / 1.2
2105
1955
1805
1610
1505
1355
14.9-28
6
TT
125
A6
W13
W11, W12
378
1365
4068
618
19 / 1.3
2200
2040
1885
1680
1570
1415
14.9-28
6
TT
125
A6
W13
W11, W12
378
1365
4068
618
20 / 1.4
2310
2145
1980
1765
1650
1485
14.9-28
8
TT
130
A6
W13
W11, W12
378
1365
4068
618
22 / 1.5
2480
2300
2125
1895
1770
1595
14.9-28
8
TT
130
A6
W13
W11, W12
378
1365
4068
618
23 / 1.6
3730
2610
2240
1995
1865
1680
14.9-28
8
TT
130
A6
W13
W11, W12
378
1365
4068
618
26 / 1.8
3800
2660
2280
2035
1900
1710
14.9-30
8
TT
131
A6
W13
W11, W12
378
1415
4217
643
22 / 1.5
3630
2540
2180
1945
1815
1635
14.9-30
8
TT
131
A6
W13
W11, W12
378
1415
4217
643
23 / 1.6
3820
2675
2295
2045
1910
1720
14.9-30
8
TT
131
A6
W13
W11, W12
378
1415
4217
643
26 / 1.8
3900
2730
2340
2090
1950
1755
14.9-30
10
TT
135
A6
W13
W11, W12
378
1415
4217
643
29 / 2.0
4140
2900
2485
2215
2070
1865
14.9-30
10
TT
135
A6
W13
W11, W12
378
1415
4217
643
32 / 2.2
4270
2990
2565
2285
2135
1925
14.9-30
10
TT
135
A6
W13
W11, W12
378
1415
4217
643
33 / 2.3
4360
3055
2615
2335
2180
1965
15.5-38
8
TT
133
A6
W14L
-
394
1570
4679
725
22 / 1.5
3830
2680
2300
2050
1915
1725
15.5-38
8
TT
133
A6
W14L
-
394
1570
4679
725
23 / 1.6
4040
2830
2425
2160
2020
1820
15.5-38
8
TT
133
A6
W14L
-
394
1570
4679
725
26 / 1.8
4120
2885
2475
2205
2060
1855
15.5-38
10
TT
138
A6
W14L
-
394
1570
4679
725
28 / 1.9
4490
3145
2695
2405
2245
2020
15.5-38
10
TT
138
A6
W14L
-
394
1570
4679
725
29 / 2.0
4580
3205
2750
2450
2290
2060
15.5-38
10
TT
138
A6
W14L
-
394
1570
4679
725
32 / 2.2
4720
3305
2835
2525
2360
2125
15.5-38
14
TT
145
A6
W14L
-
394
1570
4679
725
37 / 2.6
3695
3430
3170
2820
2640
2375
15.5-38
14
TT
145
A6
W14L
-
394
1570
4679
725
40 / 2,8
3900
3620
3340
2975
2785
2505
15.5-38
14
TT
145
A6
W14L
-
394
1570
4679
725
44 / 3,0
4060
3770
3480
3100
2900
2610
15.5-38
12
TT
142
A6
W14L
-
394
1570
4679
725
32 / 2.2
4980
3485
2990
2665
2490
2240
15.5-38
12
TT
142
A6
W14L
-
394
1570
4679
725
35 / 2.4
5195
3635
3115
2780
2595
2335
15.5-38
12
TT
142
A6
W14L
-
394
1570
4679
725
38 / 2.6
5300
3710
3180
2835
2650
2385
16.9-28
8
TT
135
A6
W15L
W14L
429
1435
4276
646
20 / 1.4
3970
2780
2385
2125
1985
1790
16.9-28
8
TT
135
A6
W15L
W14L
429
1435
4276
646
22 / 1.5
4140
2900
2485
2215
2070
1865
16.9-28
8
TT
135
A6
W15L
W14L
429
1435
4276
646
25 / 1.7
4360
3055
2615
2335
2180
1965
16.9-28
10
TT
139
A6
W15L
W14L
429
1435
4276
646
25 / 1.7
4570
3200
2745
2445
2285
2055
16.9-28
10
TT
139
A6
W15L
W14L
429
1435
4276
646
26 / 1.8
4670
3270
2800
2500
2335
2100
16.9-28
10
TT
139
A6
W15L
W14L
429
1435
4276
646
29 / 2.0
4860
3400
2915
2600
2430
2190
16.9-30
6
TT
130
A6
W15L
W14L
429
1485
4425
671
15 / 1.0
3310
2320
1985
1770
1655
1490
16.9-30
6
TT
130
A6
W15L
W14L
429
1485
4425
671
16 / 1.1
3460
2425
2075
1850
1730
1560
16.9-30
6
TT
130
A6
W15L
W14L
429
1485
4425
671
19 / 1.3
3800
2660
2280
2035
1900
1710
16.9-30
8
TT
137
A6
W15L
W14L
429
1485
4425
671
20 / 1.4
4190
2935
2515
2245
2095
1885
16.9-30
8
TT
137
A6
W15L
W14L
429
1485
4425
671
22 / 1.5
4370
3060
2622
2340
2185
1970
16.9-30
8
TT
137
A6
W15L
W14L
429
1485
4425
671
25 / 1.7
4600
3220
2760
2460
2300
2070
16.9-30
10
TT
139
A6
W15L
W14L
429
1485
4425
671
29 / 2.0
4570
3200
2745
2445
2285
2060
16.9-30
10
TT
139
A6
W15L
W14L
429
1485
4425
671
32 / 2.2
2760
3335
2855
2550
2380
2145
16.9-30
10
TT
139
A6
W15L
W14L
429
1485
4425
671
35 / 2.4
4860
3405
2915
2600
2430
2190
16.9-30
12
TT
143
A6
W15L
W14L
429
1485
4425
671
29 / 2.0
5070
3550
3045
2715
2535
2285
16.9-30
12
TT
143
A6
W15L
W14L
429
1485
4425
671
32 / 2.2
5230
3660
3140
2800
2615
2355
16.9-30
12
TT
143
A6
W15L
W14L
429
1485
4425
671
35 / 2.4
5450
3815
3270
2915
2725
2455
16.9-30
14
TT
144
A6
W15L
W14L
429
1485
4425
671
32 / 2.2
5210
3650
3125
2790
2605
2345
16.9-30
14
TT
144
A6
W15L
W14L
429
1485
4425
671
35 / 2.4
5380
3760
3230
2880
2690
2420
16.9-30
14
TT
144
A6
W15L
W14L
429
1485
4425
671
38 / 2.6
5600
3920
3360
2995
2800
2520
16.9-34
8
TT
139
A6
W15L
W14L
429
1585
4723
721
20 / 1.4
4420
3095
2655
2365
2210
1990
16.9-34
8
TT
139
A6
W15L
W14L
429
1585
4723
721
22/ 1.5
4620
3235
2775
2475
2310
2080
16.9-34
8
TT
139
A6
W15L
W14L
429
1585
4723
721
25 / 1.7
4860
3405
2915
2600
2430
2190
16.9-34
10
TT
142
A6
W15L
W14L
429
1585
4723
721
25 / 1.7
4830
3380
2900
2585
2415
2175
16.9-34
10
TT
142
A6
W15L
W14L
429
1585
4723
721
26 / 1.8
5040
3530
3024
2695
2520
2270
16.9-34
10
TT
142
A6
W15L
W14L
429
1585
4723
721
29 / 2.0
5300
2710
3180
2835
2650
2385
16.9-34
12
TT
145
A6
W15L
W14L
429
1585
4723
721
29 / 2.0
5510
3860
3305
2950
2755
2480
16.9-34
12
TT
145
A6
W15L
W14L
429
1585
4723
721
32 / 2.2
5690
3985
3415
3045
2845
2560
16.9-34
12
TT
145
A6
W15L
W14L
429
1585
4723
721
33 / 2.3
5800
4060
3480
3105
2900
2610
16.9-34
14
TT
148
A6
W15L
W14L
429
1585
4723
721
29 / 2.0
3705
3440
3175
2830
2650
2380
16.9-34
14
TT
148
A6
W15L
W14L
429
1585
4723
721
33 / 2.3
4100
3810
3515
3135
2930
2640
16.9-34
14
TT
148
A6
W15L
W14L
429
1585
4723
721
38 / 2.6
4410
4095
3780
3370
3150
2835
16.9-38
8
TT
141
A6
W15L
W14L
429
1685
5021
771
20 / 1.4
4690
3285
2815
2510
2345
2110
16.9-38
8
TT
141
A6
W15L
W14L
429
1685
5021
771
22/ 1.5
4890
3425
2935
2615
2445
2200
16.9-38
8
TT
141
A6
W15L
W14L
429
1685
5021
771
25 / 1.7
5150
3605
3090
2755
2575
2320
16.9-38
10
TT
144
A6
W15L
W14L
429
1685
5021
771
25 / 1.7
5100
3570
3060
2730
2550
2295
16.9-38
10
TT
144
A6
W15L
W14L
429
1685
5021
771
26 / 1.8
5320
3725
3195
2845
2660
2395
16.9-38
10
TT
144
A6
W15L
W14L
429
1685
5021
771
29 / 2.0
5600
3920
3360
2995
2800
2520
16.9-38
12
TT
146
A6
W15L
W14L
429
1685
5021
771
29 / 2.0
5640
3950
3385
3015
2820
2540
16.9-38
12
TT
146
A6
W15L
W14L
429
1685
5021
771
31 / 2.1
5880
4115
3530
3145
2940
2645
16.9-38
12
TT
146
A6
W15L
W14L
429
1685
5021
771
33 / 2.3
6000
4200
3600
3210
3000
2700
18.4-26
12
TT/TL
146
A6
W16L
W15L
467
1450
4321
647
29 / 2.0
3990
3705
3420
3050
2850
2565
18.4-26
12
TT/TL
146
A6
W16L
W15L
467
1450
4321
647
32 / 2.2
4115
3820
3530
3145
2940
2645
18.4-26
12
TT/TL
146
A6
W16L
W15L
467
1450
4321
647
33 / 2.3
4200
3900
3600
3210
3000
2700
18.4-26
14
TT
149
A6
W16L
W15L
467
1450
4321
647
35 / 2.4
4230
3925
3625
3230
3020
2720
18.4-26
14
TT
149
A6
W16L
W15L
467
1450
4321
647
38 / 2.6
4415
4100
3785
3375
3155
2840
18.4-26
14
TT
149
A6
W16L
W15L
467
1450
4321
647
41 / 2.8
4500
4225
3900
3480
3250
2925
18.4-30
6
TT
134
A6
W16L
W15L
467
1550
4619
697
13 / 0.9
2700
2510
2315
2065
1930
1740
18.4-30
6
TT
134
A6
W16L
W15L
467
1550
4619
697
15 / 1.0
2820
2620
2420
2155
2015
1815
18.4-30
6
TT
134
A6
W16L
W15L
467
1550
4619
697
16 / 1.1
2970
2755
2545
2270
2120
1910
18.4-30
8
TT
139
A6
W16L
W15L
467
1550
4619
697
17 / 1.2
3095
2875
2650
2365
2210
1990
18.4-30
8
TT
139
A6
W16L
W15L
467
1550
4619
697
19/ 1.3
3235
3000
2770
2470
2310
2080
18.4-30
8
TT
139
A6
W16L
W15L
467
1550
4619
697
20 / 1.4
3400
3160
2915
2600
2430
2190
18.4-30
10
TT
145
A6
W16L
W15L
467
1550
4619
697
22 / 1.5
3780
3510
3240
2890
2700
2430
18.4-30
10
TT
145
A6
W16L
W15L
467
1550
4619
697
23 / 1.6
3985
3700
3415
3045
2845
2560
18.4-30
10
TT
145
A6
W16L
W15L
467
1550
4619
697
26 / 1.8
4060
3770
3480
3105
2900
2610
18.4-30
12
TT
149
A6
W16L
W15L
467
1550
4619
697
29 / 2.0
4325
4105
3710
3305
3090
2780
18.4-30
12
TT
149
A6
W16L
W15L
467
1550
4619
697
32 / 2.2
4415
4100
3785
3375
3155
2840
18.4-30
12
TT
149
A6
W16L
W15L
467
1550
4619
697
33 / 2.3
4550
4225
3900
3480
3250
2925
18.4-30
14
TT
151
A6
W16L
W15L
467
1550
4619
697
33 / 2.3
4445
4130
3810
3400
3175
2860
18.4-30
14
TT
151
A6
W16L
W15L
467
1550
4619
697
36 / 2.5
4641
4310
3980
3550
3315
2985
18.4-30
14
TT
151
A6
W16L
W15L
467
1550
4619
697
39 / 2.7
4830
4485
4140
3695
3450
3105
18.4-34
8
TT
141
A6
W16L
W15L
467
1650
4917
747
17 / 1.2
4690
3285
2815
2510
2345
2110
18.4-34
8
TT
141
A6
W16L
W15L
467
1650
4917
747
19/ 1.3
4890
3425
2935
2615
2445
2200
18.4-34
8
TT
141
A6
W16L
W15L
467
1650
4917
747
20 / 1.4
5150
3605
3090
2755
2575
2320
18.4-34
10
TT
146
A6
W16L
W15L
467
1650
4917
747
22 / 1.5
5580
3905
3350
2985
2790
2510
18.4-34
10
TT
146
A6
W16L
W15L
467
1650
4917
747
23 / 1.6
5880
4115
3530
3145
2940
2645
18.4-34
10
TT
146
A6
W16L
W15L
467
1650
4917
747
26 / 1.8
6000
4200
3600
3210
3000
2700
18.4-34
12
TT
151
A6
W16L
W15L
467
1650
4917
747
29 / 2.0
6560
4595
3935
3510
3280
2955
18.4-34
12
TT
151
A6
W16L
W15L
467
1650
4917
747
32 / 2.2
6760
4735
4055
3620
3380
3045
18.4-34
12
TT
151
A6
W16L
W15L
467
1650
4917
747
33 / 2.3
6900
4830
4140
3695
3450
3105
18.4-34
14
TT
156
A6
W16L
W15L
467
1650
4917
747
29 / 2.0
4595
4265
3935
3510
3280
2955
18.4-34
14
TT
156
A6
W16L
W15L
467
1650
4917
747
32 / 2.2
5210
4840
4465
3980
3720
3350
18.4-34
14
TT
156
A6
W16L
W15L
467
1650
4917
747
35 / 2.4
5600
5200
4800
4280
4000
3600
18.4-38
8
TT
143
A6
W16L
W15L
467
1750
5215
797
17 / 1.2
4960
3475
2975
2655
2480
2235
18.4-38
8
TT
143
A6
W16L
W15L
467
1750
5215
797
19/ 1.3
5180
3625
3110
2770
2590
2330
18.4-38
8
TT
143
A6
W16L
W15L
467
1750
5215
797
20 / 1.4
5450
3815
3270
2915
2725
2455
18.4-38
10
TT
147
A6
W16L
W15L
467
1750
5215
797
22 / 1.5
5840
4090
3505
3125
2920
2630
18.4-38
10
TT
147
A6
W16L
W15L
467
1750
5215
797
23 / 1.6
5970
4180
3585
3195
2985
2690
18.4-38
10
TT
147
A6
W16L
W15L
467
1750
5215
797
26 / 1.8
6150
4305
3690
3290
3075
2270
8.3-24
8
TT
108
A6
W7
W6
211
995
2965
455
39 / 2.7
1820
1275
1090
975
910
820
8.3-24
8
TT
108
A6
W7
W6
211
995
2965
455
42 / 2.9
1880
1315
1130
1005
940
845
8.3-24
8
TT
108
A6
W7
W6
211
995
2965
455
46 / 3.2
2000
1400
1200
1070
1000
900
9.5-24
8
TT
112
A6
W8
W7
241
1050
3129
481
33 / 2.3
1430
1325
1225
1090
1020
920
9.5-24
8
TT
112
A6
W8
W7
241
1050
3129
481
36 / 2.5
1490
1385
1280
1140
1065
960
9.5-24
8
TT
112
A6
W8
W7
241
1050
3129
481
41 / 2.8
1570
1455
1345
1200
1120
1010