Ultrasport
/ ST760
FOR THE ONES, HAVING DESIRE FOR SPEED PERFORMANCE AND COMFORT
Summer
Does It Fit Your Car?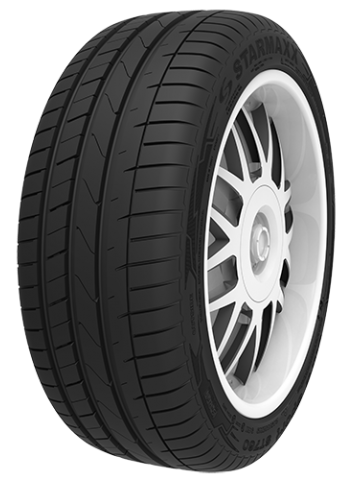 Overview
ST760 ULTRA SPORT 
Produced for drivers who desire ultimate handling and grip
performance without compromising comfort while driving at
high speeds.
more
Technology & Benefits
FST

Fine Silica Technology

Full silica tread compound developed through FST technology provides superb handling on dry and wet road conditions. Rolling resistance is reduced significantly, resulting in lower fuel consumption.

HIGH TECH UNDERTREAD CONSTRUCTION

Jointless "0" degree spiral nylon cover and wide steel belts

It improves uniformity for smoother ride, durability and tread wear.

JOINTLESS MONO STRAND BEAD WIRE AND HARD BEAD FILLER

Strengthens the link between tire and rim for a more precise driving experience.

Improve lateral stability in high speed cornering and uniformity for smoother ride.
All Sizes
Ultrasport / ST760
TIRE SIZE
LOAD INDEX
SPEED SYMBOL
LOAD CAPACITY (kg)
SPEED LIMIT (km/h)
INFLATING PRESSURE (psi)
RIM
INFLATED DIMENSIONS
EU LABEL
RECOM. (INCHES)
PERMITTED (INCHES)
Section Width Min-Max
OUTER DIAMETER (MM)
255/35RF19RFT
92
W
630
270
36
9J
8½J,9½J,10J
254
664
LABEL
255/40ZR19RF
100
W
800
270
42
9J
8½J,9½J,10J
258
692
LABEL
185/55R14
80
V
450
240
36
6J
5J, 5½J, 6½J
193
563
LABEL
185/55R15
82
V
475
240
36
6J
5J,5½J,6½J
194
585
LABEL
185/55R16
87
H
545
210
42
6J
5J,5½J,6J,6½J
191
610
LABEL
195/45R16RF
84
V
500
240
42
6½J
6J,7J,7½J
195
582
LABEL
195/50R15
82
V
475
240
36
6J
5½J, 6J, 6½J, 7J
196
582
LABEL
195/50R16
84
V
500
240
36
6J
5½J 6J 6½J 7J
195
608
LABEL
195/55R15
85
V
515
240
36
6J
5½J 6J 6½J 7J
200
595
LABEL
195/55R16
87
V
545
240
36
6J
5½J,6½J,7J
195
620
LABEL
195/55RF16RFT
87
V
545
240
36
6½J
5½J, 6J, 6½J, 7J,
201
620
LABEL
205/40ZR16RF
83
W
487
270
42
7½
7J,8J
212
570
LABEL
205/40ZR17RF
84
W
500
270
42
7½J
7J,8J
216
601
LABEL
205/45ZR16RF
87
W
545
270
42
7J
6½J,7½J
205
596
LABEL
205/45ZR17RF
88
W
560
270
42
7J
6½J,7½J
206
623
LABEL
205/50RF17RFT
89
W
580
270
36
6½J
5½J, 6J, 7J, 7½J
210
640
LABEL
205/50ZR15
86
W
530
270
36
6½J
5½J,6J,7J,7½J
214
587
LABEL
205/50ZR16RF
91
W
615
270
42
6½J
5½J, 6J, 6½J, 7J, 7½J
214
612
LABEL
205/50ZR17RF
93
W
580
270
42
6½J
5½J,6J,7J,7½J
214
638
LABEL
205/55RF16RFT
94
V
615
240
36
6½J
5½J, 6J, 7J, 7½J
214
635
LABEL
205/55ZR17
95
W
690
270
42
6,5J
5½J, 6J, 7J, 7½J
217.5
652
LABEL
205/55ZR17
91
W
615
270
36
6½J
5½J, 6J, 7J, 7½J
205
658
LABEL
215/35R15RF
84
W
500
270
42
7J
7J, 7½J, 8J
215
606
LABEL
215/35ZR18RF
84
W
500
270
42
7½J
7J, 8J, 8½J
216
613
LABEL
215/35ZR19
85
W
515
270
42
7½J
7J, 8J, 8½J
217
640
LABEL
215/35ZR19RF
85
W
515
270
42
7½J
7J, 8J, 8½J
215
640
LABEL
215/40ZR16RF
86
W
530
270
42
7½
7J ,8J, 8½
218
580
LABEL
215/40ZR17RF
87
W
545
270
42
7½J
7J, 8J, 8½J
218
608
LABEL
215/40ZR18RF
89
W
580
270
42
7½J
7J,8J,8½J
217
633
LABEL
215/45R16RF
90
V
600
240
42
7J
7½J, 8J
215
600
LABEL
215/45ZR17RF
91
W
615
270
42
7J
7J 7½J 8J
211
627
LABEL
215/45ZR18RF
93
W
650
270
42
7J
7½,8J
213
655
LABEL
215/50ZR17RF
95
W
690
270
42
7J
6J,6½J,7½J
226
648
LABEL
215/55ZR16RF
97
W
730
270
42
7J
6J, 6½J, 7½J
228
642
LABEL
215/55ZR17RF
98
W
750
270
42
7J
6J, 6½J, 7½J
226
668
LABEL
215/60R16RF
99
V
775
240
42
6½J
6J,7J,7½J
225
665
LABEL
225/35RF19RF
88
Y
560
300
42
8J
7½J, 8½J, 9J
255
641,5
LABEL
225/35RF20RFT
90
Y
600
300
42
8J
7½J, 8½J, 9J
234
665
LABEL
225/35ZR18RF
87
W
545
270
42
8J
7½J,8½J,9J
227
625
LABEL
225/35ZR19RF
88
W
560
270
42
8J
7.5J, 8J, 8.5J, 9J
225
648
LABEL
225/35ZR19RF
88
W
560
270
42
8J
7½,8½J,9½J
231
644
LABEL
225/40RF18RFRFT
92
Y
630
300
42
8J
7½J, 8½J, 9J
233,5
633
LABEL
225/40ZR18RF
92
Y
630
300
42
8J
7½J, 8½J, 9J
233
642
LABEL
225/40ZR18RF
92
Y
630
300
42
8J
7½J, 8½J, 9J
233
642
LABEL
225/40ZR18RF
92
W
630
270
42
8J
7½J, 8½J, 9J
230
637
LABEL
225/40ZR19RF
93
W
650
270
42
8J
7½J,8½J,9J
230
663
LABEL
225/45RF17RFT
91
W
615
270
36
7½J
7J, 8J, 8½J
226
636
LABEL
225/45RF18RFT
91
W
615
270
36
7½J
7J-7½J-8J-8½J
225
660
LABEL
225/45ZR17RF
94
W
670
270
42
7½J
7J, 8J, 8½J
222
642
LABEL
225/45ZR18RF
95
W
690
270
42
7½J
7J,8J,8½J
225
659
LABEL
225/45ZR19RF
96
W
710
270
42
7½J
7J,8J,8½J
225
693
LABEL
225/50RF17RFT
94
W
670
270
36
7J
6J, 6½J, 7½J,8J
225
658
LABEL
225/50ZR16RF
96
W
710
270
42
7J
6J,6½J,7½J,8J
233
632
LABEL
225/50ZR17RF
98
W
750
270
42
7J
6J,6½J,7½J,8J
233
658
LABEL
225/55RF17RFT
97
W
730
270
36
7J
6J 6½J 7½J 8J
228
680
LABEL
225/55ZR16RF
99
W
775
270
42
7J
6J,6½J,7½J,8J
233
654
LABEL
225/55ZR17RF
101
W
825
270
42
7J
6J, 6½J, 7J, 7½J, 8J
233
688
LABEL
225/60R16
98
V
750
240
36
6½J
6J,7J,7½J,8J
233
677
LABEL
235/35ZR19RF
91
W
615
270
42
8J
8J, 9J,9½J
236
654
LABEL
235/40ZR17RF
94
W
670
270
42
8½J
8J,9J,9½J
241
622
LABEL
235/40ZR18RF
95
W
690
270
42
8½J
8J, 9J, 9½J
241
645
LABEL
235/45ZR17RF
97
W
730
270
42
8J
7½J 8½J 9J
236
650
LABEL
235/45ZR18RF
98
W
750
270
42
8J
7½J,8½J,9J
236
669
LABEL
235/45ZR19RF
99
W
775
270
42
8J
7½J, 8½J, 9J
238
694
LABEL
235/50ZR18RF
101
W
825
270
42
7½J
6½J,7J,8J,8½J
245
693
LABEL
235/55ZR17RF
103
W
875
270
42
7½J
6.½J, 7J, 8J, 8.½J
246
692
LABEL
235/55ZR18RF
104
W
900
270
42
7½J
6½J, 7, 8J, 8½J
246
718
LABEL
235/60ZR16
100
W
800
270
36
7J
6½J,7½J,8J,8½J
240
690
LABEL
245/30ZR19RF
89
W
89
270
42
8½J
8J, 9J
243,1
632,2
LABEL
245/30ZR20RF
90
Y
600
300
42
8½J
8J, 9J
242,4
656,9
LABEL
245/35RF20RF
95
Y
690
300
71
8,5J
8J, 9J, 9½J
245
682,5
LABEL
245/35ZR17
87
W
545
270
36
8½J
8J,9J,9½J
243
608
LABEL
245/35ZR18RF
92
W
630
270
42
8½J
8J,9J,9½J
242
636
LABEL
245/35ZR19RF
93
W
650
270
42
8½J
8J,9J,9½J
241
662
LABEL
245/35ZR20RF
95
W
690
270
42
8½J
8J, 8½J, 9J, 9½J
243
689
LABEL
245/40RF18RFT
93
W
650
270
36
8½J
8J, 9J, 9½J
245
662
LABEL
245/40RF19RFT
94
W
670
270
36
8½J
8J, 9J, 9½J
245
682
LABEL
245/40RF20RF
99
Y
775
300
42
8½J
8J, 9J, 9½J
251,5
703
LABEL
245/40RF20RF
99
Y
775
300
42
8½J
8J, 9J, 9½J
251,5
703
LABEL
245/40RF20RF
99
Y
775
300
42
8½J
8J, 9J, 9½J
251,5
703
LABEL
245/40RF20RF
99
Y
775
300
42
8½J
8J, 9J, 9½J
251,5
703
LABEL
245/40ZR17RF
95
W
690
270
42
8½J
8J 9J 9½J
246
635
LABEL
245/40ZR18
93
W
650
270
36
8½J
8J,9J,9½J
244
660
LABEL
245/40ZR19RF
98
W
750
270
42
8½J
8J,9J,9½J
245
678
LABEL
245/40ZR20RF
99
W
775
270
42
8½J
8J, 9J, 9½J
244
710
LABEL
245/45RF18RFT
96
W
710
270
36
8J
7½J, 8½J 9J
243
677
LABEL
245/45RF19RFT
102
W
850
270
42
8J
7½J,8½J,9J
243
703
LABEL
245/45RF19RFT
98
W
750
270
36
8J
7½J,8½J,9J
243
703
LABEL
245/45ZR17RF
99
W
775
270
42
8J
7½J, 8½J 9J
243
652
LABEL
245/45ZR18
100
W
800
270
36
7½J
7J, 8J, 8½J
243
708
LABEL
245/45ZR18RF
100
W
800
270
42
8J
7½J, 8½J 9J
243
677
LABEL
245/50RF18P-RFT
100
W
800
270
36
7½J
7J, 8J, 8½J
245
708
LABEL
245/50ZR18
100
W
800
270
36
7½J
7J, 8J, 8½J
245
708
LABEL
255/30RF19RF
91
Y
615
300
42
9J
8,5J, 9,5J
256
637
LABEL
255/30ZR19RF
91
W
615
270
42
9J
8½J,9½J
255
636.5
LABEL
255/35RF18RFT
90
Y
600
300
36
9J
8½J, 9½J, 10J
257,5
631,5
LABEL
255/35ZR18RF
94
Y
670
300
42
9J
8½J, 9½J, 10J
257,5
635,5
LABEL
255/35ZR18RF
94
W
670
270
42
9J
8½J,9½J,10J
253
639
LABEL
255/35ZR19RF
96
W
710
270
42
9J
8½J,9½J,10J
254
665
LABEL
255/35ZR20RF
97
W
730
270
42
9J
8½J,9½j,10j
254
692
LABEL
255/40RF18RFT
95
W
690
300
36
9J
8,5J, 9,5J, 10J
255
656,5
LABEL
255/40ZR20RF
101
W
825
270
42
9J
8½J, 9½J, 10J
257
711
LABEL
255/45ZR18RF
103
W
875
270
42
8½J
8J, 9J, 9½J
257
692
LABEL
255/45ZR19RF
104
Y
900
300
42
8½J
8J,9J,9½J
257
718
LABEL
265/30ZR19RF
93
W
650
270
42
9½J,
9J,10J
266
645
LABEL
265/35ZR18RF
97
W
730
270
42
9½J
9J, 10J, 10½J
268
647
LABEL
265/35ZR20RF
99
W
775
270
42
9½J
9J, 10J, 10½J
273,1
693,9
LABEL
265/40ZR18RF
101
Y
825
300
42
9½J
9J, 10J, 10½J,
277,4
664,9
LABEL
265/40ZR19RF
102
W
850
270
42
9½J
9J, 10J, 10½J
275
690
LABEL
275/30ZR19
96
W
710
270
42
9½J
9J, 10J
270
649
LABEL
275/30ZR20RF
97
W
730
270
42
9½J
9J, 10J
269
676
LABEL
275/35RF19RFT
96
W
710
270
36
9½J
9J, 10J, 10½J, 11J
272
674
LABEL
275/35ZR18RF
99
W
775
270
42
9½J
9J, 10J,10½J,11J
270
656
LABEL
275/35ZR19RF
100
W
800
270
42
9½J
9J, 10J, 10½J, 11J
268
682
LABEL
275/35ZR20RF
102
Y
850
300
42
9½J
9J, 10J, 10½J, 11J
273
700,2
LABEL
275/40RF19RFT
101
Y
825
300
36
9½J
9J, 10J, 10½J, 11J
285
696,5
LABEL
275/45ZR18
107
W
975
270
42
9J
8½J, 9½J, 10J, 10½J
269.8
705.6
LABEL
285/35RF18RFT
97
Y
730
300
36
10J
9½J, 10½J, 11J
290
657
LABEL
285/35RF19RFT
99
Y
775
300
36
10J
9½J, 10½J, 11J
290
682
LABEL
285/40ZR19RF
107
W
975
270
42
10J
9½J, 10½J, 11J
291.5
707.9
LABEL
295/30ZR19RF
100
W
800
270
42
10½
10J,11J
304
661
LABEL
295/35ZR19RF
104
W
900
270
42
10½J
10J, 11J, 11½J
299,5
688,2
LABEL
295/35ZR20RF
105
W
925
270
42
10½J
10J, 11J, 11½J
300,1
714
LABEL
305/30ZR20RF
103
W
875
270
42
11
10½J,11½J
315.5
687
LABEL