StxL43
/ L-3 / G-3 (Radial)
All steel loader and grader radial tire.
Overview
StxL43 (L-3/G-3)
StxL43 (L-3/G-3) is an all steel radial tire suitable for loader and grader
applications. Delivers optimized performance on all grounds. The
compound and the agressive design of the tread pattern enhance handling
thorughout the tire's exceptional service life. Offers outstanding resistance
against cuts and wears. PtxL43 is the ultimate choice when traction is the
priority.
more
Properties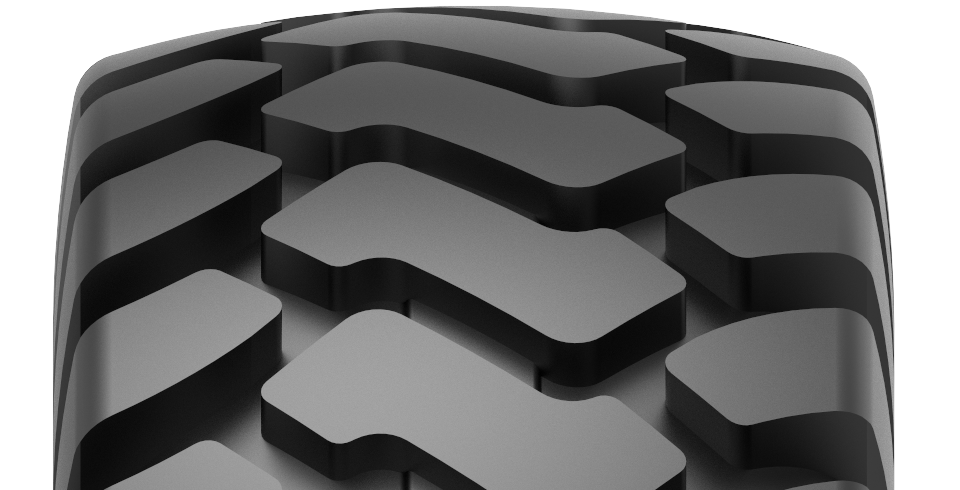 All Sizes
StxL43
/ L-3 / G-3 (Radial)
TIRE SIZE
PR
TT/TL
LOAD INDEX
SPEED SYMBOL
RIM
INFLATED DIMENSIONS (NO LOAD)
INFLATED DIMENSIONS (W/LOAD)
TREAD DEPTH(MM)
INFLATING PRESSURE (psi)
LOAD CAPACITY PER TIRE (KG)
RECOM. (INCHES)
PERMITTED (INCHES)
Section Width Min-Max
OUTER DIAMETER (MM)
DYNAMIC RADIUS CIRCLE (MM)
STATIC LOADED RADIUS (MM)
Speed (KM/H)
10
15
20
25
30
35
40
45
50
55
60
65
17.5R25G3
16
TL
176 / 153
A2A8
14.00/1.5
14.00 / 1.3 (DC)
445
1345
4035
595
26
GRADER (G-3) 29 / 2.00
2575
17.5R25G3
16
TL
176 / 153
A2A8
14.00/1.5
14.00 / 1.3 (DC)
445
1345
4035
595
26
GRADER (G-3) 33 / 2.25
2900
17.5R25G3
16
TL
176 / 153
A2A8
14.00/1.5
14.00 / 1.3 (DC)
445
1345
4035
595
26
GRADER (G-3) 36 / 2.50
3075
17.5R25G3
16
TL
176 / 153
A2A8
14.00/1.5
14.00 / 1.3 (DC)
445
1345
4035
595
26
GRADER (G-3) 40 / 2.75
3350
17.5R25G3
16
TL
176 / 153
A2A8
14.00/1.5
14.00 / 1.3 (DC)
445
1345
4035
595
26
GRADER (G-3) 44 / 3.00
3650
17.5R25L3
16
TL
176 /153
A2A8
14.00/1.5
14.00/1.3 (DC)
445
1345
4035
595
26
LOADER(L-3) 29 / 2.00
3650
17.5R25L3
16
TL
176 /153
A2A8
14.00/1.5
14.00/1.3 (DC)
445
1345
4035
595
26
LOADER(L-3) 33 / 2.25
4000
17.5R25L3
16
TL
176 /153
A2A8
14.00/1.5
14.00/1.3 (DC)
445
1345
4035
595
26
LOADER(L-3) 36 / 2.50
4250
17.5R25L3
16
TL
176 /153
A2A8
14.00/1.5
14.00/1.3 (DC)
445
1345
4035
595
26
LOADER(L-3) 40 / 2.75
5625
17.5R25L3
16
TL
176 /153
A2A8
14.00/1.5
14.00/1.3 (DC)
445
1345
4035
595
26
LOADER(L-3) 44 / 3.00
4850
17.5R25L3
16
TL
176 /153
A2A8
14.00/1.5
14.00/1.3 (DC)
445
1345
4035
595
26
LOADER(L-3) 47 / 3.25
5300
17.5R25L3
16
TL
176 /153
A2A8
14.00/1.5
14.00/1.3 (DC)
445
1345
4035
595
26
LOADER(L-3) 51 / 3.50
5600
17.5R25L3
16
TL
176 /153
A2A8
14.00/1.5
14.00/1.3 (DC)
445
1345
4035
595
26
LOADER(L-3) 54 / 3.75
5800
17.5R25L3
16
TL
176 /153
A2A8
14.00/1.5
14.00/1.3 (DC)
445
1345
4035
595
26
LOADER(L-3) 58 / 4.00
6000
17.5R25L3
16
TL
176 /153
A2A8
14.00/1.5
14.00/1.3 (DC)
445
1345
4035
595
26
LOADER(L-3) 62/ 4.25
6150
17.5R25L3
16
TL
176 /153
A2A8
14.00/1.5
14.00/1.3 (DC)
445
1345
4035
595
26
LOADER(L-3) 65 / 4.50
6500
17.5R25L3
16
TL
176 /153
A2A8
14.00/1.5
14.00/1.3 (DC)
445
1345
4035
595
26
LOADER(L-3) 69 / 4.75
6700
17.5R25L3
16
TL
176 /153
A2A8
14.00/1.5
14.00/1.3 (DC)
445
1345
4035
595
26
LOADER(L-3) 73 / 5.00
7100